By Adam Roberts | November 11, 2004
Categories: Book News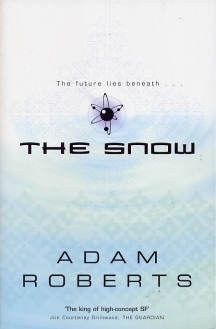 The Snow has now been published to what they call 'mixed reviews'. Niall Harrison's review on The Alien Online is (I think) very perceptive and, on balance, positive; and Mark Greener, again writing on The Alien Online, who has also interviewed me for Vector, had some nice things to say about it. On the downside, Nick Gevers in Locus found less to like than dislike about it, and Chris Priest in The Guardian cremated the novel with a devastating flamethrower blast. Ah well. I tell myself, as I have before, that it's better to provoke strong if divided opinion than blandness.
My opinion, for what it is worth, is that The Snow is the most complex novel I have yet written, even if its complexity is not necessarily on the surface. The premise is fairly straightforward, end-of-world disaster mediated via Ballard: it starts snowing one day and does not stop. But, whilst I hope I've told a (reasonably) interesting story about individual survival and the roots of the disaster (and whilst I hope I've written something as far removed from The Day After Tomorrow as possible) I was trying to constellate some rather different things. What I mean is that, it seems to me that this is actually a book about whiteness, and that the more obvious inflections of 'white' (as blank page, as race, as spirit, as age, whiteness as opposed to 'blackness' and simultaneously as opposed to 'rainbow prism') are in fact only aspects of a more fundamental whiteness, the White Goddess. The Snow is my working through of Robert Graves's 'historical grammar of poetic myth' The White Goddess, one of the core books of my life -- not because of its cod Celticism, and certainly not because of the whiff of New Age/crystal/treehugging malarkey that has latterly become associated with it, but because Graves' personal account of his relationship with his Muse struck a powerful chord with me as a teenager, and that it still resonates. Not, if I'm being honest, that I can really expect people to connect with a book written about such a topic. After all, I don't even know if you're serious about your connection with the Muse...
Comments